Don't be fooled by the lack of direct Christmassy vibes in August, because it's the ideal time to start planning your corporate holiday parties. Being an early bird allows you to choose from a wide range of amazing venues and activities available in Brno and South Moravia. To help you navigate through the options, we've categorized the Christmas activities and are here to provide inspiration for the best ones.
Restaurants, Lounges, Halls in Festive Attire
Your choice will largely depend on capacity. There's a significant difference between hosting a festive gathering for twenty people and accommodating a large company with hundreds of attendees. Consider the advantages of hotel restaurants and lounges. Guests from afar will appreciate the convenience of not having to worry about transportation. Brno's hotels have ample experience hosting themed parties; all you need to do is pick your preferred theme and finalize the details. Beautiful settings and excellent gastronomy await at venues like Courtyard by Marriott, Barcelo Palace, Hotel International, Orea Santon or Orea Congress Hotel. The magnificent Ballroom at the Passage Hotel sets the perfect holiday tone. For a truly unique experience, visit Hotel Continental – have you seen their Champagne bar with a green wall? Bubbles go just as well with Christmas as mulled wine. Count on excellent service at hotels like Quality, Avanti, or eFi. A hall for up to 150 people is available at the Terra Technica Museum located within the Excalibur City complex near Znojmo. For enthusiasts of jukeboxes, pinball machines, and video games, this place will be a dream come true!
Need to invite hundreds or even thousands of people? Book one of the grand halls at the Exhibition Grounds or Cosmopolitan Bobycentrum Hotel well in advance.
Want to soak up the magical Christmas atmosphere of Brno? Arrange a special ride on the Šalina Pub and cruise through the illuminated city. Or start with mulled wine at Zelňák and then reserve the terrace at Tržnice for the continuation. At that moment, you'll have the best views in the city.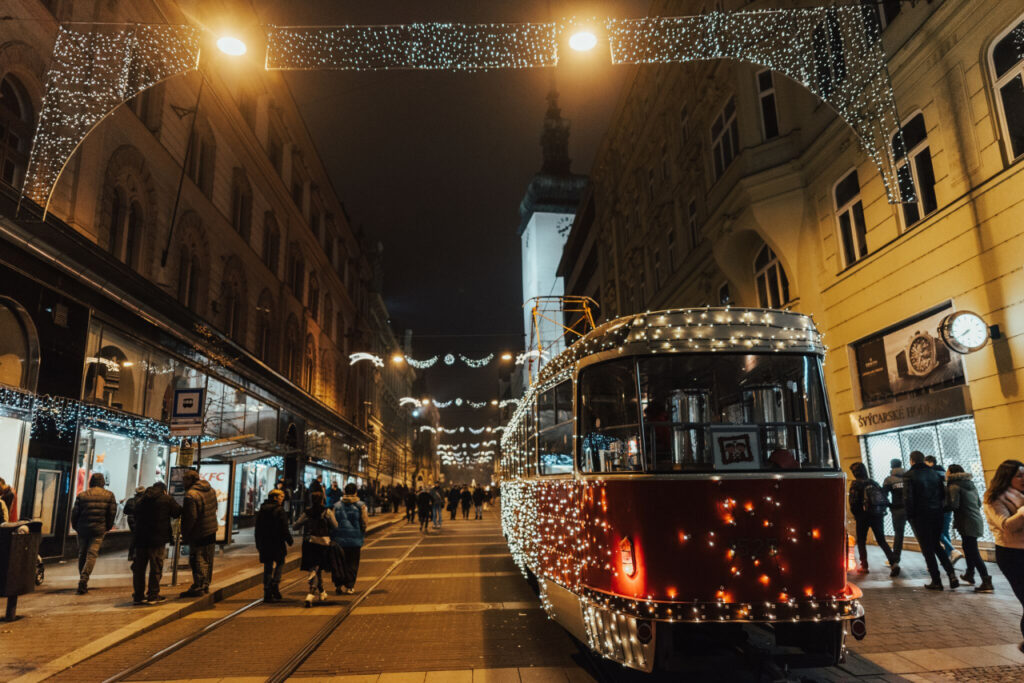 We mustn't overlook the region. A perfect experience awaits you at Chateau de Frontiere in Hlohovec. From exquisite gastronomy to fragrant wellness facilities and comfortable accommodation, the package is complete. The Essens Restaurant is a pinnacle of Czech cuisine, with Michelin inspectors already on the hunt. Be there ahead of time.
Want to feel like you're in a castle, even if just for a moment? Choose from an extensive array of historical venues. Highlighting Slavkov Chateau, conveniently located near Brno. Its most beautiful and grand Historical Hall, boasting excellent acoustics, can accommodate up to 300 guests for a reception or 200 attendees for a concert.
Wine Cellar Magic in Winter
Although vineyards are undoubtedly most beautiful in the fall, they also have their charm in winter. Not to mention the freshest harvest that has just matured into young wine in the cellars. Sonberk Winery knows all about it. They offer regular walks through their winter vineyards, during which you'll learn plenty of behind-the-scenes information and even get to roast sausages at the end. Afterward, retreat to the warmth and admire the breathtaking view of Pálava. Marvelous ambiance is also present at the social events in the Crystal Hall at SPIELBERG Winery in Archlebov. Treat your team to a festive dinner; the open kitchen promises sensory delights for everyone. You'll also have a great time with wine, Moravian cuisine specialties, and cimbalom music in the cozy cellars of Valtice Underground.
Active Festivities
The idea of guests sitting at tables is not active enough for you? We have plenty of tips for active entertainment, suitable even for the winter months. Take your team on a treasure hunt in nature. Popular treasure hunts are available in various locations in South Moravia, not just Brno. You'll find them in Znojmo, Mikulov, Pálava, Lednice, and Zaječí. At Golf Resort Kaskáda, compete in golf ball drives; at Autodrom, have a blast on go-karts or treat yourselves to a skid school. If you prefer indoor activities, we have halls for laser tag, bowling, and even exotic curling!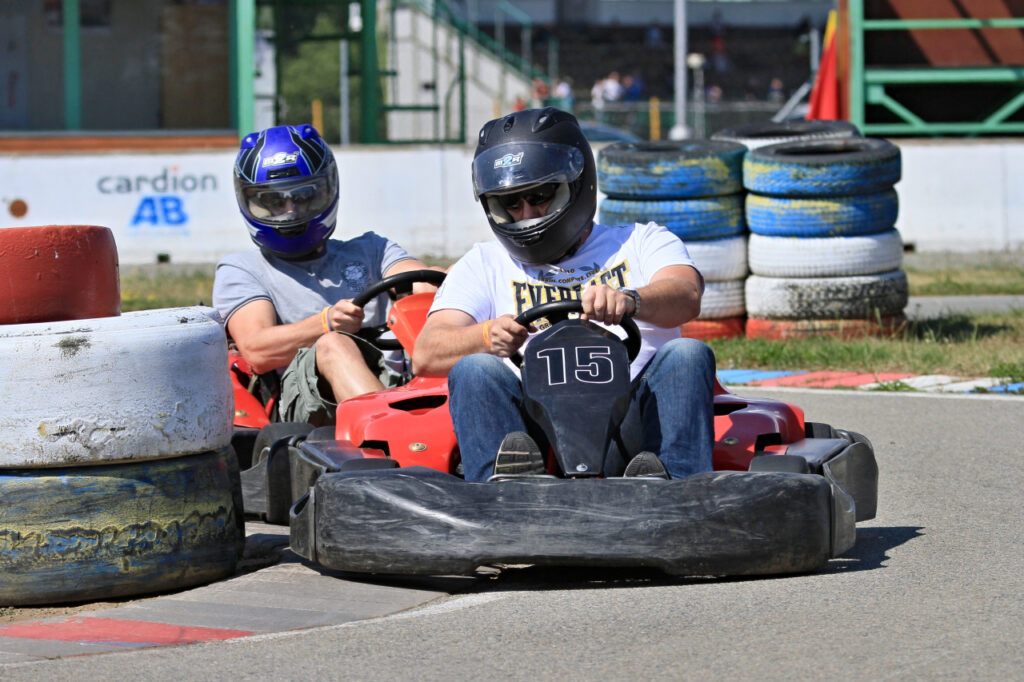 Creative Workshops
Everyone wants to relax over Christmas. Ease into the holidays with a pleasant shared activity that lets your mind rest and your hands get busy. Create your own ceramics, learn to weave an Advent wreath, craft decorations, cards, decorate gingerbread cookies, or attend a cooking class together. For a touch of wildness, there's cocktail mixing school, and later in the evening, perhaps a tour of renowned Brno establishments.
Shared Wellness Experience
If your team is into saunas or relaxing in a hot tub, there's only one challenging task left—choosing the perfect option for you from the plethora available. Brno is home to the renowned Resort Maximus and Hotel Atlantis. In the region, try Wine Wellness at Amande, Hotel Volarik, or Orea Panorama in the Moravian Karst. For exquisite wellness and beer baths, head to Hotel Sladovna in Černá Hora.
As summer warms the days, Christmas planning may not be top of mind, but now is the perfect time to strategize your corporate holiday events. Getting ahead means you can select from a wide range of venues and activities across Brno and South Moravia. From cozy hotel gatherings to active adventures, creative workshops, and relaxing spa experiences, the options are diverse. If you need assistance with venue selection or booking, don't hesitate to reach out to us for guidance. Set the stage for a memorable holiday season that promises camaraderie and merriment for your team.